Sunday Times Best Selling Author of What Mummy Makes, Rebecca Wilson, shares her top 5 comfort food recipes that the whole family will love this Autumn
With picky eaters or 'feed the food to the dog under the table' kiddos, it can be quite difficult to find the perfect meal that keeps the whole family happy.
In fact, even when you find a meal everyone loves, putting the same one on repeat might feel a bit like groundhog day.
We asked Rebecca Wilson to share her favourite recipes from her books Family Comforts and Fast Family Food that will be perfect for the colder months that are quickly approaching.
Here are her top picks…
Recipe #1 Chickpea and Butternut Squash Dahl
A hearty vegan meal, creamy in texture and full of protein and goodness from the lentils and chickpeas, making it well balanced and nutritious for all the family.
The dahl will keep for 3 days in the fridge, or freeze for 3 months. Reheat in a saucepan or in the microwave until bubbling and piping hot throughout.
Serves 2 adults, 3 littles
Prep 5 mins
Slow Cook 3- 8 hours, freezable
Ingredients:
1 butternut squash, peeled and cut into 2cm (¾in) dice
1 x 400g (14oz) can chickpeas in water
300g (10½oz) dried red lentils, rinsed
2 low-salt vegetable stock cubes* (gluten-free, if necessary)
1 tbsp garam masala
1 tbsp mild curry powder
a good grinding of black pepper
2 heaped tsp driedmixed herbs
2 tsp smoked paprika
1 x 400g (14oz) can coconut milk
1 x 400g (14oz) can chopped tomatoes
1 brown onion, finely diced
2 garlic cloves, grated
Method:
1. Put all of the ingredients, including the water from the can of chickpeas, into the slow cooker, along with 350ml (12fl oz) of boiling water. Give it a really good stir and put the lid on.
2. Cook on HIGH for 3–4 hours or LOW for 6–8 hours.
3. Once done, use a wooden spoon or rubber spatula to give the dahl a really good stir and mash the soft butternut squash into the sauce a little.
4. Serve the dahl with rice or naan breads, or even as a pasta sauce. Adults, you may want to season your portion with a little salt or even a dash of chilli sauce, if you like.
Recipe #2 Bolognese Polenta Bake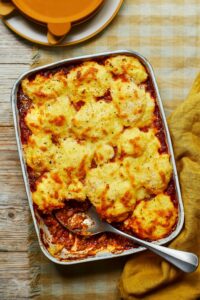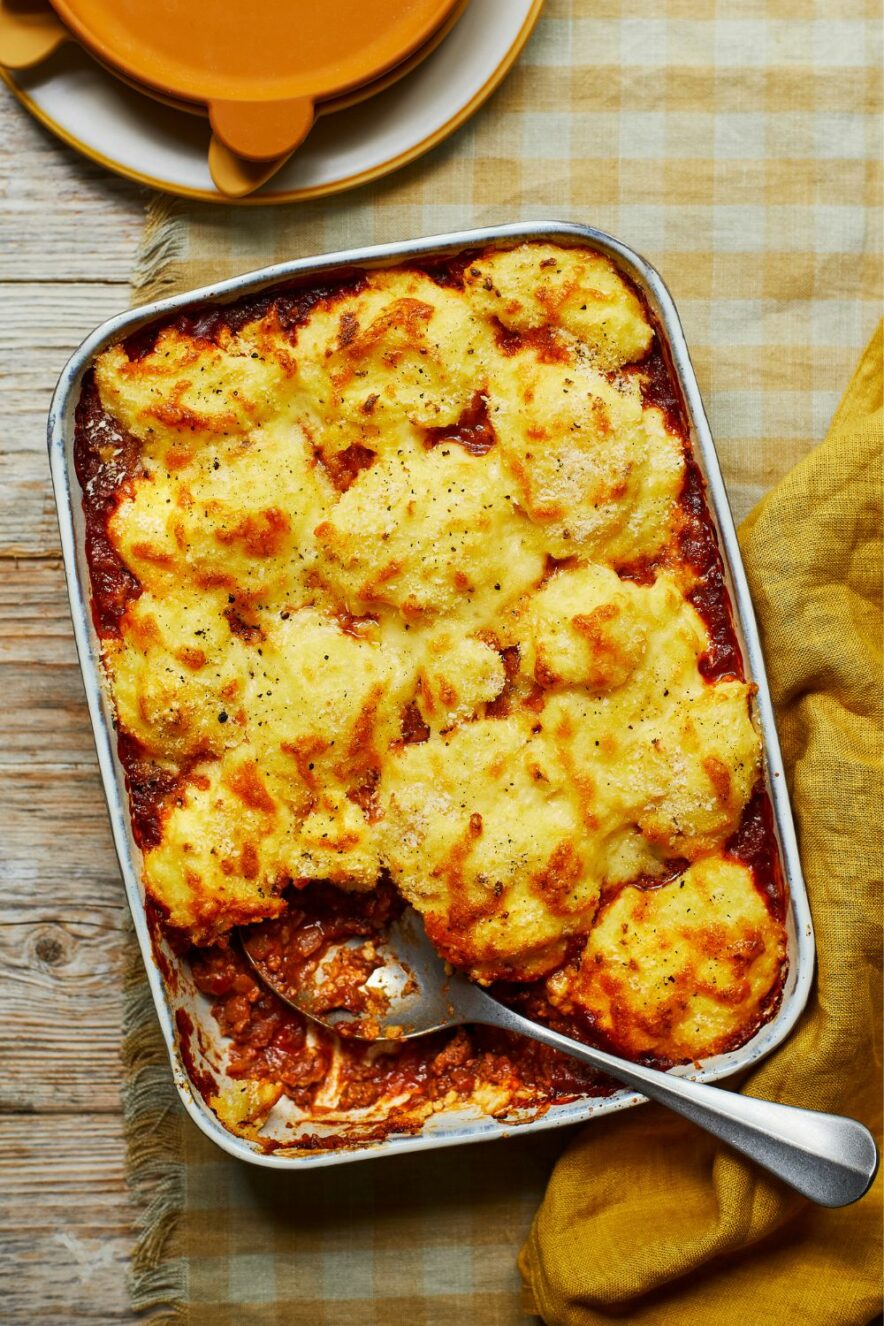 A cosy warming dish to huddle around on a cold autumnal day. Rich Bolognese ragu is topped with a firm, cheesy polenta topping.
Leftovers will keep for 2 days in the fridge, or 3 months in the freezer. Reheat in the oven until piping hot.
Serves 2 adults, 3 littles
Prep 25 mins
Bake 25 mins, freezable
Ingredients:
1 tsp garlic-infused oil
500g (1lb 2oz) lean beef or lamb mince
1 brown onion, grated or finely diced
2 large garlic cloves, finely grated
500g (1lb 2oz) tomato passata (strained tomatoes)
1 low-salt beef stock cube*
2 tsp dried mixed herbs
2 tbsp Worcestershire sauce* (optional)
2 tsp smoked paprika
1 tsp sugar (optional)
freshly ground black pepper
For the polenta topping:
1 low-salt chicken stock cube*
1 litre (35fl oz) milk*
180g (6¼oz) fine polenta (cornmeal)
30g (1oz) unsalted butter*
100g (3½oz) smoked Cheddar cheese*, grated
2 tbsp breadcrumbs*
*can substitute depending on dietary requirements
Method:
1. Preheat the oven to 200ºC fan (220ºC/425ºF/Gas 7).
2. Heat the oil in a large frying pan, add the mince and fry for 3 minutes, breaking it into small pieces with a spatula as you go.
3. Add the onion and continue to cook for another 3 minutes. Once the meat has browned all over, add the garlic and tomato passata.
4. Fill the empty passata tin or carton a quarter full and swill the water around to catch as much tomato as you can, then add that to the pan too.
5. Crumble in the beef stock cube and add the mixed herbs, Worcestershire sauce, if using, smoked paprika, sugar, if using, and a little black pepper. Stir and allow the sauce to bubble away while you make the polenta.
6. Crumble the chicken stock cube into a large saucepan, add the milk and allow it to come up to a simmer. Meanwhile, measure the polenta into a mug.
7. Once the milk is just starting to show little bubbles, with a whisk in one hand and the polenta in another, sprinkle in the polenta while whisking continuously to avoid lumps forming. Allow it to cook for around 5 minutes, stirring often, until it thickens to a very thick creamy porridge.
8. Remove the polenta from the heat, add the butter and two thirds of the cheese and stir to melt them into the polenta. You can now serve this alongside your mince Bolognese, but it's even tastier if you combine the two and bake it in the oven.
9. Pour the Bolognese into a large baking dish large enough to fit it all in with a little space left above for the polenta. Dollop spoonfuls of the polenta on top, leaving some little gaps between each spoonful to let the sauce come up and bubble around it.
10. Place the dish on a large baking tray to catch any tomato splatters, sprinkle over the remaining cheese and the breadcrumbs, and finish with another good grinding of black pepper. Bake in the oven for 20–25 minutes until the polenta has set and there is a delicious golden crust.
11. Serve with steamed or boiled green veg.
Recipe #3 Cinnamon Apple Toast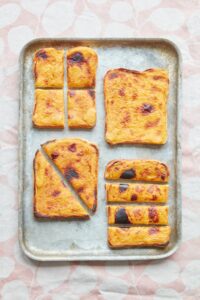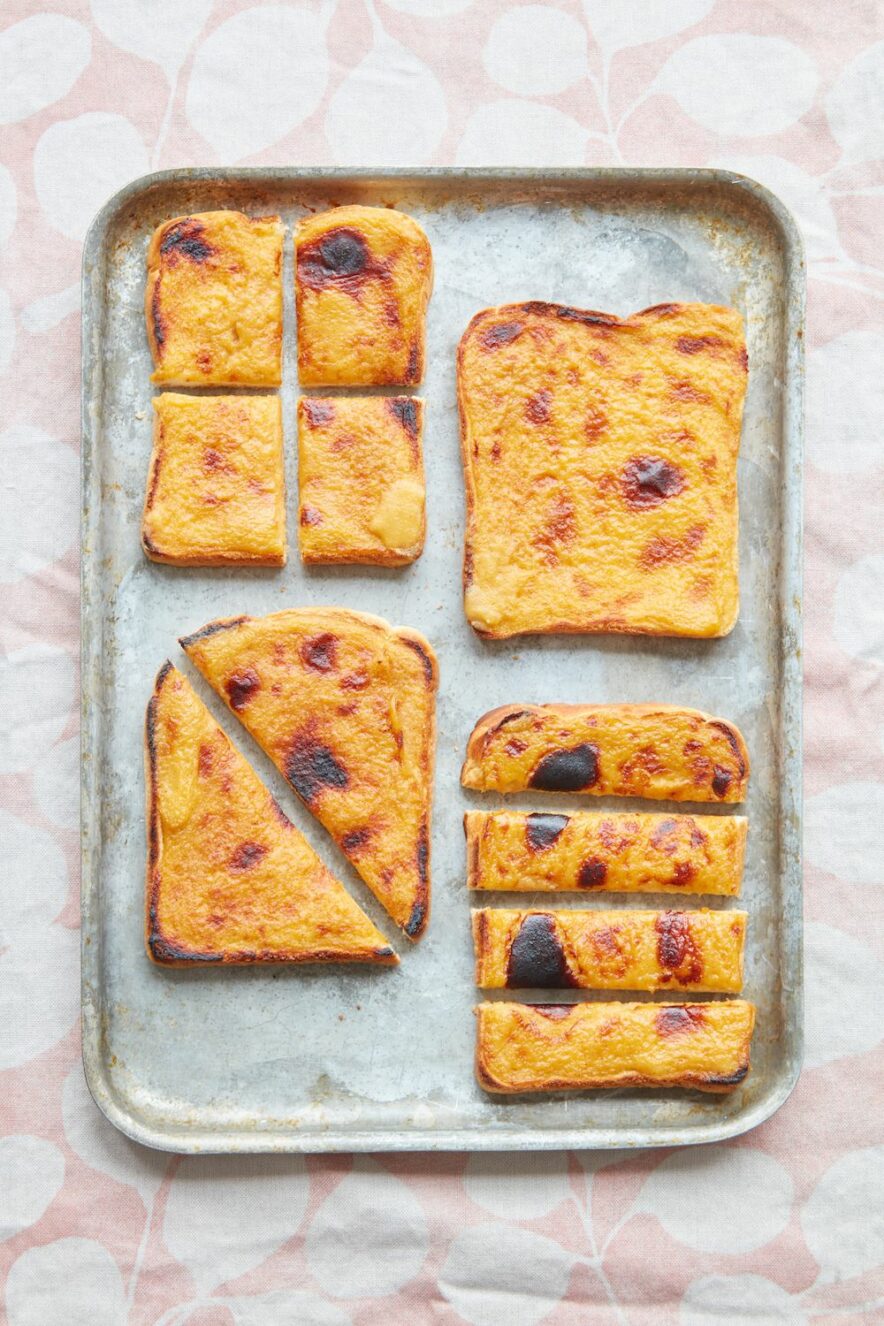 This tastes like a delicious cinnamon Danish pastry, but one that you can make in 10 minutes. If you have a big family, make a double batch – you won't regret it.
These toasts are best served fresh, however leftovers will keep for up to 24 hours. Enjoy cold or reheat in a hot oven for 5 minutes until piping hot throughout.
Makes 4 pieces
Prep 5 mins
Cook 5-6 minutes
Ingredients:
4 thick slices of fresh soft bread*
60g (1 ⁄4 cup) unsalted butter, softened*
1 x 90g (31 ⁄4oz) pouch of apple purée (see note)
1 tbsp light soft brown sugar (optional)
2 tsp ground cinnamon
Note: If you can't find apple purée pouches, any fruit flavour will work. Just ensure it is unsweetened 100% fruit, definitely with no added cereals. Alternatively, a small mashed banana also works.
Method:
1. Preheat the grill to high.
2. Meanwhile, make the topping. Place the butter in a small bowl, ensuring it is soft enough to mix with the other ingredients. In winter, my kitchen stays too cold for butter to soften at room temperature, so I like to cube it, put it in a bowl, cover and heat on LOW for 30–40 seconds in the microwave until just soft – just be careful not to let it melt completely.
3. Add the apple purée, sugar, if using, and cinnamon. Stir well to combine using a tablespoon. Don't worry if the mixture looks slightly separated right now, it will be completely fine.
4. Once the toast is done, spread a quarter of the butter mixture over each slice, using the back of your tablespoon to ensure you have an even layer and the mixture reaches right to the edges.
5. Place all the toast on a large baking tray and heat under the preheated grill for around 5 minutes, until the exposed bread edges have browned, and the cinnamon butter is bubbling on top.
6. It will be hot when it first comes out of the grill, so wait a few moments for the toast to slightly cool, then cut into quarters, or finger strips for little ones to enjoy.
Recipe #4 Lamb and Tomato Hot Pot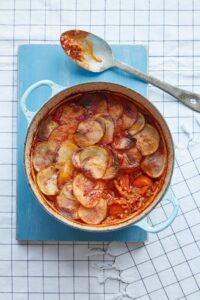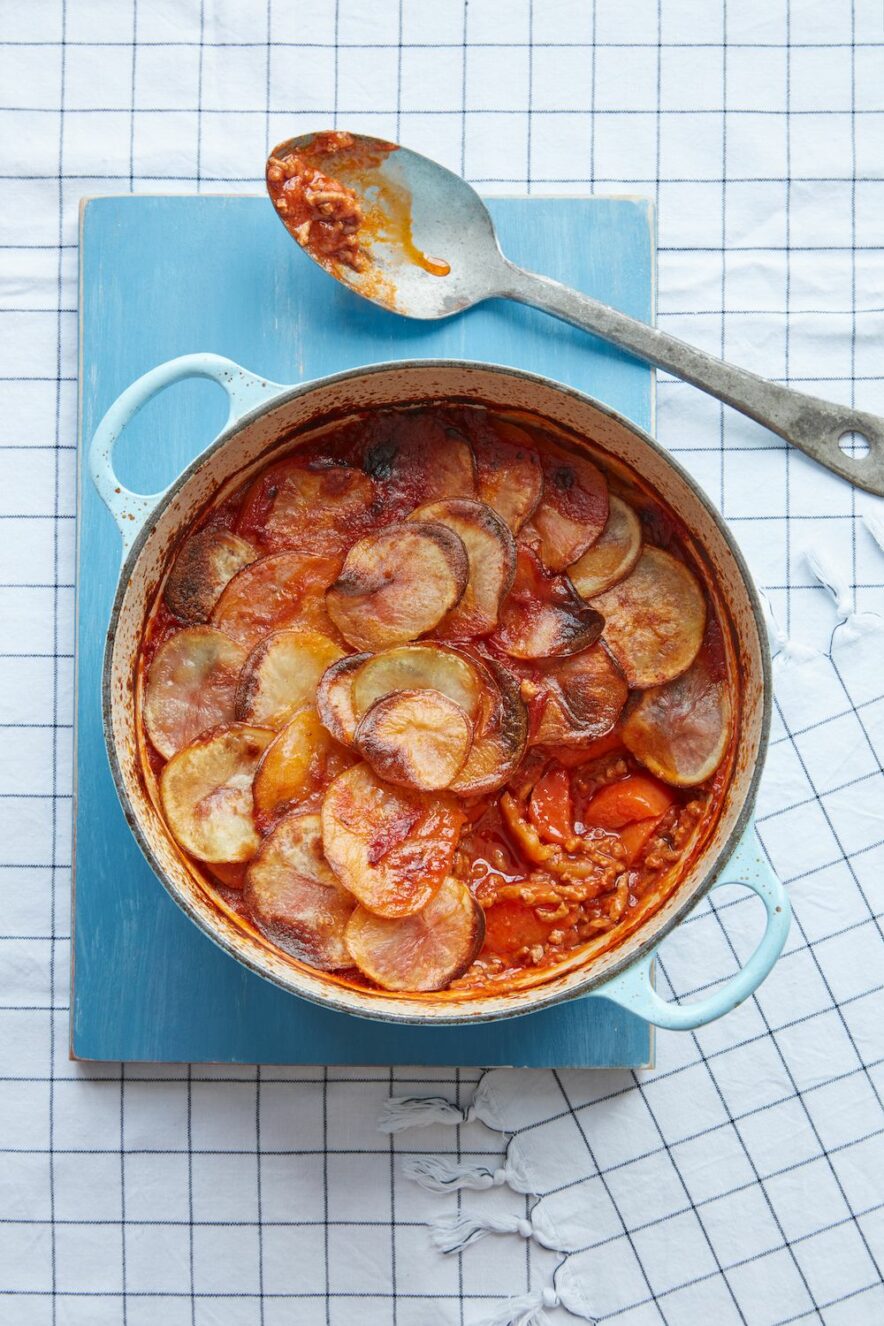 With succulent lamb and tender veg in a rich tomato sauce topped with crispy scalloped potatoes, this is a real one-pot wonder! The minimal washing up is such a bonus.
Leftovers will keep for up to 2 days in the fridge. Reheat in a hot oven for approx. 15–20 minutes or in a microwave on HIGH for a few minutes or until piping hot.
You can also freeze cooled leftovers in an airtight container, defrosting them thoroughly before reheating as above.
Serves 2 adults, 3 littles
Prep 10 mins
Bake 1 hour, freezable
Ingredients:
500g (1lb 2oz) lean minced (ground) lamb
1 brown onion
3 large carrots
2 low-salt beef or chicken stock cubes*
1 tbsp Worcestershire sauce*
2 tbsp tomato purée (paste)
2 tsp garlic paste
2 tbsp cornflour (cornstarch)
500g (1lb 2oz) passata (strained tomatoes)
2 tsp dried mixed herbs
3–4 large all-rounder potatoes, washed
2 tsp garlic-infused oil, plus extra if needed
Method:
1. Preheat the oven to 180°C fan (200°C/400°F/Gas 6) and put the kettle on to boil.
2. Place a large casserole pot on the hob over a high heat to heat up. Add the lamb mince and let it cook for 1 minute without touching while you dice the onion. Now, break up the mince using a wooden spoon and add the onion, stirring it in. If your mince is very lean and looks like it is sticking, then add a drizzle of garlic oil.
3. Let the meat cook while you peel the carrots and cut them into chunks. Turn your attention back to the pot and crumble in the stock cubes, add the Worcestershire sauce, tomato purée, garlic paste and cornflour. Cook, stirring, for 1 minute, then add the chopped carrots, passata and mixed herbs.
4. Stir well, then top the pot up with boiling water out of the kettle to reach about 1–2cm (1 ⁄2–3 ⁄4in) over everything. The amount of water you need really depends on the size of your pot, so play it by ear. Try not to add too much water, though, as the potatoes on top will sink down below the sauce once baked, which is not a bad thing taste-wise, but it won't look as pretty.
5. Stir well and allow it to bubble while you slice the potatoes into 0.5cm (1 ⁄4in) thick rounds – don't worry about peeling them to save time. Scrape the bottom of the pot with your wooden spoon to loosen any stuck-on bits, then take the pot off the heat to add the potatoes.
6. Layer the sliced potatoes over the top of the pot carefully, as the sauce will be hot. Try to overlap them a little to give a pretty design, then drizzle over a little garlic oil to help the potatoes crisp up. If you're using a narrow, deep pot, your potatoes may sink into the sauce, so in this case just add an extra layer or two of sliced potatoes on top.
7. Pop the dish in the preheated oven, uncovered, for 1 hour to bake. Allow to stand for 5 minutes before serving, and take care as it will be really hot! If there's a little bit of lamb fat sitting on the top of the potatoes or around the edge of the pot, use a spoon to gently skim this away before serving.
8. Serve as is, with a little veg on the side – savoy cabbage works perfectly.
Recipe #5 Tomato and Spinach Fish Stew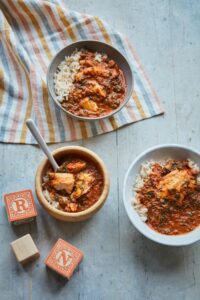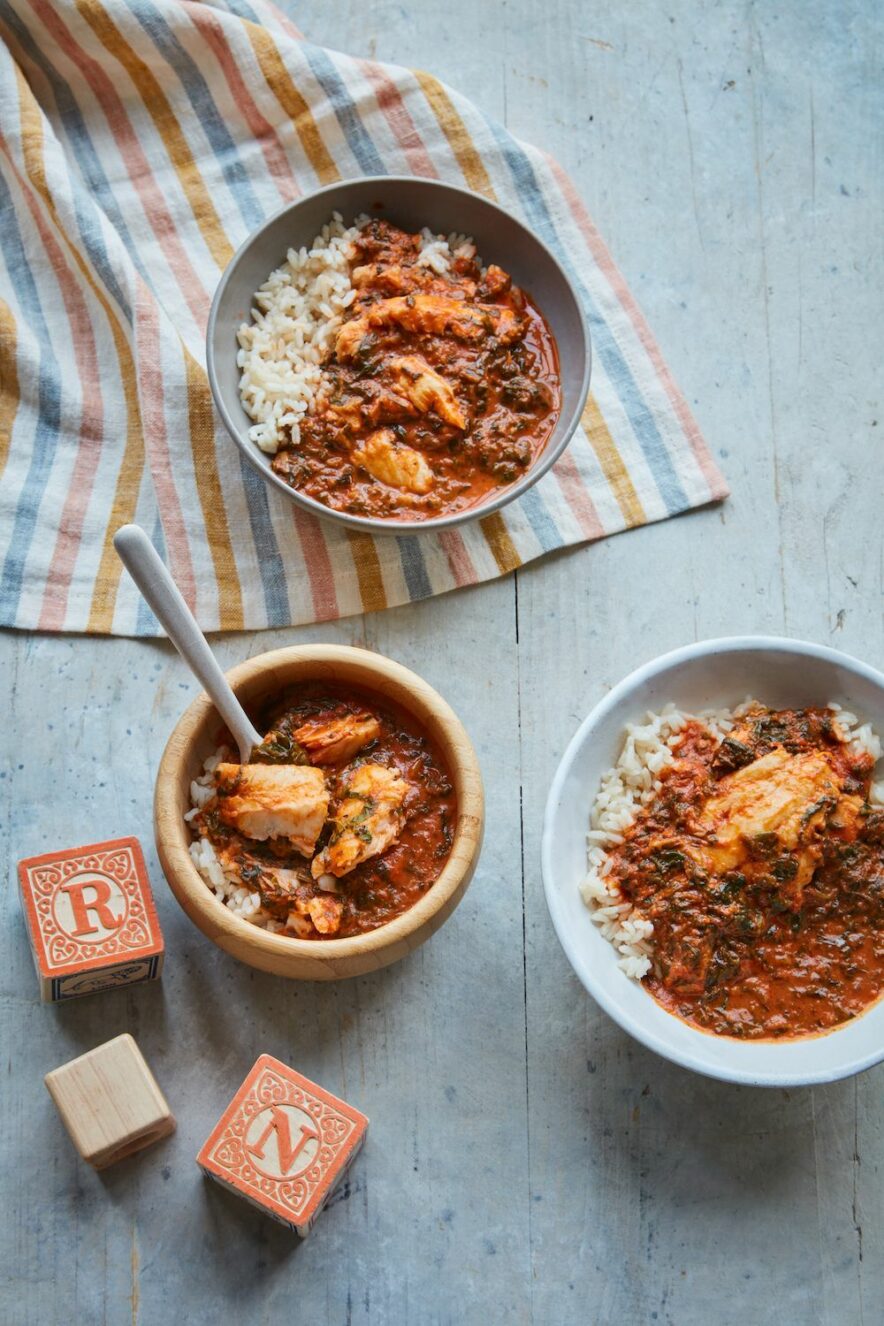 When I think of slow cooker meals, fish doesn't usually come to mind. However, this dish gives you soft and flaky delicate fish in a rich, flavourful tomato and spinach sauce.
As a bonus, this recipe calls for frozen fish cooked straight from the freezer, which is such an easy and economical way of adding fish to our diet.
This dish is best served fresh, however, if you have any leftovers, these will keep for up to 24 hours in the fridge. To reheat, place in an ovenproof dish, cover with foil and heat in a hot oven for 10–15 minutes until piping hot throughout.
You can also freeze any leftovers for up to 1 month. Defrost in the fridge and then reheat as above.
No slow cooker? Cook the tomato sauce in a large, high-sided frying pan with a lid on for at least 30 minutes over a medium heat on the hob – the longer the better really.
When the sauce is done, add the fish and cook for a further 15 minutes or until the fish is piping hot throughout.
Serves 2 adults, 2 littles
Prep 5 mins
Cook 3- 7 hours, freezable
Ingredients:
500g (1lb 2oz) crushed tomatoes or passata (strained tomatoes)
8 cubes of chopped frozen spinach
1 x 400g (14oz) can of coconut milk
2 tsp sweet paprika
2 tsp smoked paprika
1 tsp dried mixed herbs
2 tsp garlic granules OR 2 garlic cloves, minced
2 tbsp tomato purée (paste)
1 tsp sugar (optional)
1 low-salt chicken or vegetable stock cube*, crumbled
4–6 frozen skinless and boneless large white fish fillets, e.g. haddock, bass, pollock or cod
Method:
1. Add the crushed tomatoes or passata to the slow cooker pot along with the frozen spinach, coconut milk, sweet and smoked paprika, dried herbs, garlic granules or fresh garlic, tomato purée, sugar, if using, and crumbled stock cube. Give it all a really good stir so that there are no lumps apart from the frozen spinach, which will defrost as it cooks. Pop the lid on and cook on HIGH for 3 hours or on LOW for 5–6 hours.
2. Give the sauce another good stir so that any small lumps of stock cube that have melted during cooking are distributed evenly through the sauce.
3. Take the fish out of the freezer and add the frozen fillets to the sauce. Stir and make sure each fillet is submerged in the sauce, then put the lid back on and cook for a further 30–40 minutes on HIGH or 50–60 minutes on LOW, or until the fish flakes easily, as this will tell you that it's done. To double check, lift up one fish fillet gently using a fish slice, then gently flake it in half at its thickest point. Place your finger on the white fish flesh inside, if it's too hot to keep your finger there for a few seconds, then it's done. If it feels just lukewarm, you need to cook it for another 10–20 minutes until piping hot.
4. Serve alongside some rice to soak up the sauce or crusty bread for dipping.
Both Family Comforts and Fast Family Foods with more recipes like these can be purchased for £18.99 at dk.com or are available on Amazon. 
Follow Rebecca Wilson on Instagram at @RebeccaWilsonFood or find more recipes online at www.rebeccawilson.com.
Like this article? Sign up to our newsletter to get more articles like this delivered straight to your inbox.


Source link

#family #favourite #comfort #food #recipes #perfect #autumn #Healthista